School of Medicine
Ideal environment for learning with various education and research facilities including advanced medicine facilities having state-of-the-art equipment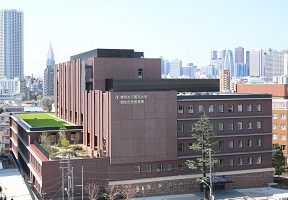 The philosophy of the School of Medicine is that "we would nurture female physicians who can be independent through the development of their abilities and achieving medical knowledge/skills and can implement "Sincerity and Compassion". For this purpose, we have always implemented educational reforms to meet the needs of the times and introduced new educational systems as a pioneer in Japan. School education is characterized by "Team-based learning", "integrated curriculum" and "Implementation and learning of "Sincerity and Compassion" as the main pillar for vertically integrated education.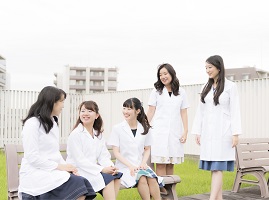 In addition, at the new Yayoi Memorial Building for Medical and Nursing Education, full-fledged collaborative education for the School of Medicine and School of Nursing has started in 2020.The objective of the vertically cross-grade education is to acquire fundamental knowledge, skills, and attitudes as a physician, and to promote continuous lifelong learning abilities. Collaborative education aims at developing abilities to create new knowledge and intelligence in collaboration with other people.The School of Medicine aims at nurturing female physicians who can contribute to medicine throughout their lives by continuously improving themselves in various career development and life cycles.
-List of Departments-
---
---
■Comprehensive Education and Learning Center

| | |
| --- | --- |
| Department of Medicine Basic Pedagogy | Basic Science |
---
■TBL(Team-based learning)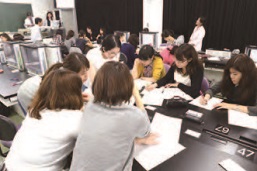 In 2008, the Team-based learning (TBL) system was introduced for fourth-year students to learn clinical reasoning.This system enhances practical learning with which students can learn the process of clinical reasoning through problem solving, both individually and as a team. First, each student is expected to find her own solution for a given problem. Next, the problem is discussed in each group of 6 to 7 students to find solutions as a team.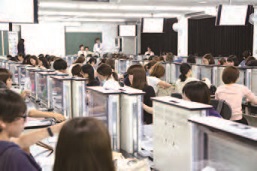 After discussions and presentations among groups, faculty members in charge provide solutions and commentary.The "flow of such learning at the School of Medicine is characterized by utilizing an advanced education system, response analyzer.The TBL system has been conducted in physiology classes for first-year students since 2013 and in some classes for third-year students since 2019.



■Meeting the global standards based on international external assessment
Tokyo Women's Medical University School of Medicine underwent a multifaceted medical education assessment by the Japan Accreditation Council for Medical Education (JACME) in November 2019 and was accredited as meeting the global standards in June 2020. Various educational approaches implemented by the entire School of Medicine were highly rated, demonstrating that students receive the highest levels of education in Japan. We are all committed to continuously innovating educational programs and further improving the quality of education.
---
◇Contact for more information
Admission Office
Tokyo Women's Medical University Graduate School of Medical Science
8-1 Kawada-cho, Shinjuku-ku, Tokyo 162-8666
Tel: +81-3-3353-8112 ext. 31126
Fax: +81-3-5269-7401
---