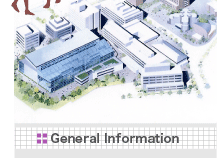 Teaching Hospitals
Tokyo Women's Medical University Hospital


(The Main Hospital)

In 1908, the teaching hospital of the original medical school opened. After several decades, Tokyo Women's Medical University Hospital, located in Kawada-cho, Shinjuku-ku, Tokyo, is now an advanced state-of-arts hospital with 1,423 beds (as of September 2004). The hospital has a dedicated staff of 6,358, comprising 1,775 doctors, 1,684 nurses, 735 medical technicians, and 2,164 logistics personnel. The hospital has 9 medical centers with 38 departments and 13 independent clinical departments. It has about 4,000 outpatients serving the whole Tokyo area, although most outpatients are from Shinjuku-ku. About 40% of new patients are referral and others are walk-in patients.

The Heart Institute
A medical center for cardiovascular diseases. It was the first organ-centered hospital established in 1953.
Institute of Gastroenterology
A center for gastrointestinal tract, liver, and pancreatic diseases. It provides medical and surgical services that includes endoscopical services.
Kidney Center
A center for kidney diseases, dialysis treatment, kidney transplantation, and urologic diseases.
Neurological Institute
A center for neurological diseases requiring medical and surgical treatments.
Diabetes Center
A center for comprehensive medicine of diabetic and metabolic diseases. Medical, pediatrics, ophthalmological cares are provided.
Institute of Clinical Endocrinology
Medical and surgical center for endocrine diseases and those related to pituitary, thyroid, accessory thyroid, adrenal glands, and pancreas.
Chest Institute
Medical and surgical center for trachea, bronchus, lung, and mediastinales.
Maternal and Perinatal Center
Medical center for maternal and perinatal cares. Normal to highly complicated preganancy and premature to normal newborns are cared for and nursed. The center has also a neonatal ICU (NICU).
Critical Care Medical Center
The center provides medical and surgical care for emergency and critical patients. The center is has a center-specific ICU and beds.

Copyright (C)2004 Tokyo Women's Medical University. All Rights Reserved.