Journal Information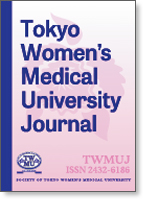 Publication Start Year: 2017
Journal Title: Tokyo Women's Medical University Journal
Abbreviation: TWMUJ (2019-); J.TWMU (2017-2018)
Published Form: Online
Online ISSN: 2432-6186
Aims and Scope
The Society of Tokyo Women's Medical University publishes Japanese-language journal Tokyo Joshiikadaigaku Zasshi. Recently, the increasing international exchange of results of medical research and experience from our university prompted starting a new international, online journal. The articles published in our journal can be freely accessed online at the J-STAGE as soon as they are accepted, in order to shorten the period between acceptance and publication of articles. The journal invites original articles, review articles, and case reports in the fields of basic, clinical, and social medicines.
Our journal is freely accessed online and members of our association receive printed copies once a year. All manuscripts submitted for publication are peer-reviewed for acceptance by school faculty. On acceptance, manuscripts are published on our website in J-STAGE as soon as possible (Advance Publication), before regular publishing of printed copies.
Manuscripts on the website do not retain page numbers equivalent to printed copies, but may have the same DOI (Digital Object Identifier). The Advance Publication is eliminated at the time of the release of regular version and linked to the past publication.