MISSION
The Institute of Advanced Biomedical Engineering and Science (ABMES) promotes research and education in advanced medicine based on medicine-science-engineering-pharmacy and industry-academia integration, and contributes to the development of medicine and medical industry
About ABMES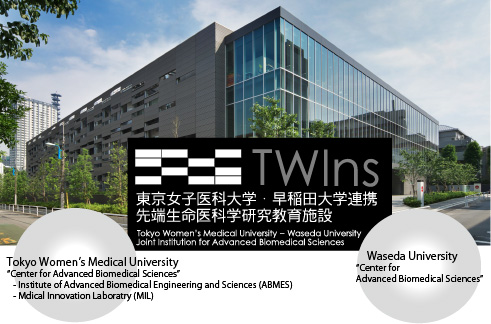 ABMES is located in the "Tokyo Women's Medical University-Waseda University Joint Institution for Advanced Biomedical Sciences (TWIns)", which was jointly founded by Tokyo Women's Medical University and Waseda University. In TWIns, the facilities and environment are prepared for both universities to jointly develop research and education in advanced biomedical sciences
In ABMES, medical doctors and researchers are working together on the research and development of medical technologies to treat the patients of tomorrow, at all levels throughout basic research, translational research, and industrialization, under medicine-science-engineering-pharmacy and industry-academia integrated environment which has been built up since the establishment in 1969.
At the same time, ABMES also contributes to the development of new types of multi-disciplinary medical doctors and researchers who will lead future medicine. Based on ABMES, the Division of Advanced Biomedical Engineering and Science has been established in the graduate school since 2001
By the members of the Faculty of Advanced Techno-Surgery (FATS), the research and development of surgery support technologies are being conducted such as intraoperative real-time navigation systems to identify tumor location, Smart Cyber Operating Theater® (SCOT®) where all medical devices are connected for information aggregation and visualization, and surgical robotic systems, to realize high-quality treatment beyond the abilities of surgeons' eyes, hands, and brains.
Besides, by the members of the branches of Tissue Regeneration and Organ Replacement, the research and development of "Tissue Engineering" are being conducted, which is the technology of creating functional tissues and organs from cells in vitro for regenerative medicine and so on. So far, several clinical applications have been realized as the world's first Japan-originated regenerative therapies in the various fields of clinical medicine.
History
May1969

"Institute for Medical Engineering" launched

Professor MIURA Shigeru appointed as the first Director

May 1976

Renamed the "Institute of Biomedical Engineering"

Professor SAKURAI Yasuhisa appointed as Director

April 1999
Professor OKANO Teruo appointed as Director
April 2001

Renamed the "Institute of Advanced Biomedical Engineering and Science"

Professor OKANO Teruo appointed as Director

"Division of Advanced Biomedical Engineering and Science" established in Graduate School of Medical Science

April 2008
"Tokyo Women's Medical University – Waseda University Joint Institution for Advanced Biomedical Sciences (TWIns)" launched
April 2010
"Cooperative Major in Advanced Biomedical Sciences" established with Waseda University
April 2016
Professor SHIMIZU Tatsuya appointed as Director
December 2017
Awarded the METI Minister's Award in the 1st Japan Medical Research and Development Awards (award shared with Waseda University)
July 2019
50th anniversary of the establishment of the institute